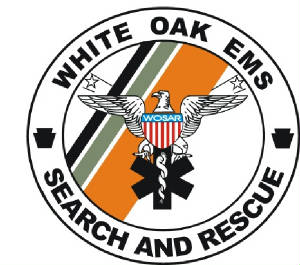 "WOSAR participates in Region 4 EMS Strike
teams and offers SAR to the region as an additional resource".
Amos P. Cameron
Regional Operations Coordinator
Emergency Medical Service Institute

The Search & Rescue division of White Oak EMS offers many SAR related resources. In 2006, WOSAR added an ATV Division and a highly trained Scuba Dive Team for water recovery/rescue. WOSAR currently has available for Wilderness, Urban, and Water Rescue a ground search team, ATV/Snowmobile team, and a Scuba team. WOSAR is a Level 1 SAR Team recognized by The Pennsylvania Search & Rescue Council.
Mission Briefing, Fayette County 7 January 2006





WOSAR



WOSAR began robot testing for SPAWAR in May of 2007

WOSAR ground searchers will respond to mutual aid requests within a 4 hour driving distance of Pittsburgh Pennsylvania and will assist the agency responsible for the search or rescue (I.E., State Police, Local Police, Civil Air Patrol, local Emergency Services Management, or other SAR Teams). WOSAR will conduct search or rescue operations only at the request of such agencies.

For Emergency Dispatch call:




1-800-MED-STAT (1-800-633-7828)

or 1-412-647-7828